In this article we will talk about one of the new jobs born with the web that has had an explosion and enormous popularity in recent years: the fashion blogger

who is a Fashion Blogger?
the fashion blogger is a person who owns a fashion blog where he writes articles about fashion, fashion and style and other issues related to the world of fashion and publishes photos of clothes, fashion shows and videos of fashion shows

we can say that the fashion blogger is simply a mix between a stylist, a blogger and a model (or model )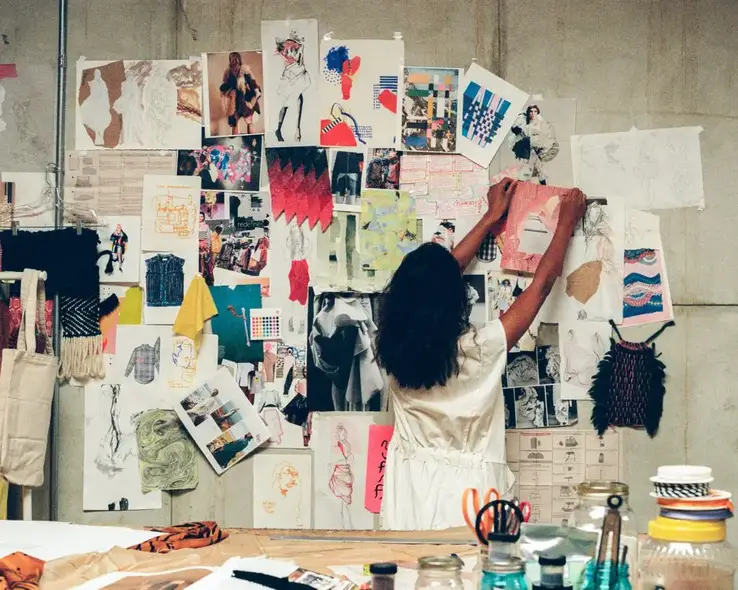 a fashion blogger is a web writer with the aim of giving a general vision of the fashion industry and comparing the tones and visions of the various protagonists of this industry, whether they are fashion designers, magazines, designers, artists and models

and moreover it can also be said that the fashion blogger is a great fashion lover, avid follower of all developments in the fashion field, skilled advisor of brands or trends and excellent sharer of ideas related to the trends of the moment on his blog.
What does it mean to be a fashion blogger
Being a fashion blogger means knowing how to manage yourself. 
yes! knowing how to be is a bit his own boss

Here is the list of things a fashion blogger must do:
Manage the editorial plan,
Create blog content
Find the material for this content,
Write regularly on the blog
Manage your network of contacts
Attend show rooms
make photos and videos for the blog
Yup! a really full calendar, but by becoming a fashion blogger you will not only pursue all the fashion trends but you will also be following your passion 

so a full calendar is a good thing 🙂
the responsibilities of a fashion blogger are:
Write, edit, post and promote fashion related content on their blog
Generating, researching and gossiping about ideas for the place
Educate others about the products and services that exist
Comment and equip and talk about trend changes in the fashion industry
Attract new readers and increase engagement on your blog
How do you become a fashion blogger ?
To become a fashion blogger you must:
Buy hosting and domain.
Create a Fashion blog
Follow the courses for Fashion bloggers
Grow your blog
Create your network of contacts
Learn to photograph
Follow the fashion trends
To become a fashion blogger what you have to do is create your blog and make it grow
your notoriety depends on the number of people who will read your blog, so especially at the beginning of your career your focus must be on learning how to manage a blog

 
once you have improved the management of your blog, your focus must be on creating as much content as possible and with the highest possible quality

to do this you will have to, but only later to start investing in more professional equipment such as a camera
What are the fundamental qualities for a fashion blogger ?
There are no specific qualities to become a fashion blogger as with all blogging jobs
what you must have is an eye for fashion and the desire to talk about it and share your ideas

the skills you need to have to be a fashion blogger are:
Good communication skills
Creativity and imagination
Interpersonal skills
Technical and IT knowledge of blogs
Eye for fashion trends
Knowledge of social networks
Know English
The knowledge of English is not compulsory but it is a very welcome addition in an industry like that of fashion which is so international
How much does a fashion blogger earn
A fashion blogger is a person who works on his own, a freelance or an independent 

and like any staff who works on their own there is no fixed salary, earnings depend on many variables

the number one variable for a fashion blogger is the number of readers who read your blog, so make sure you curate every aspect of your blog and make it as attractive as possible 

because the more attractive your blog will be, the more it will be followed and the more you will receive partnership and sponsor offers 
in short, the more traffic, the more you earn

Here are the methods by which a fashion blogger earns:
Advertising
Collaborations with customers
Collaborations with designers and brands
Affiliation
Sponsor 
Partnership
advertising
your success depends on how popular your blog is and how many people blog blog.
Once they have a lot of readers, it becomes easy to make money from advertising by placing a few banners on their blogs

for example: Chiara Ferragni is one of the most famous Italian fashion bloggers and also in the world, with her blog she makes more than 120 000 visits a year 

and the fashion brands that put their advertisements on her blog pay about 3000 a month for each banner ad on the blog

Collaborations with customers
You can use your fashion blog to advertise your services as a stylish, personal shopper or fashion photographer
blogger readers can see that you know a lot about fashion and then they can contact you to request your services
in this case your fashion blog can be your CV, portfolio and contact booklet

Collaborations with fashion designers
fashion designers can collaborate with you, giving you their creations in exchange for receiving a review or an article on your blog
by talking to your readers you will bring the creations of the designers to an interested audience by showing how these creations can be worn and have and this is all great publicity

in this way you not only create work relationships but you can also earn clothes or accessories for free, as compensation for your services

and it also often happens that these same collaborations send you invitations for show rooms or fashion shows, always so that you write articles for your readers about these events and the creations on display
Types of jobs a fashion blogger can do:
As we have seen above, the fashion blogger is a job that requires a lot of skills and skills, which is why fashion bloggers are usually very dynamic and flexible people and therefore some fashion bloggers do parallel jobs that allow them to earn extra money.

Here is the list of jobs that a fashion blogger can do:
Brand promoter : a brand promoter promotes creations, accessories and services of brands with coi works through their contacts and their know-how with people

Models : Models are responsible for showing clothes, accessories and other creations by brands and the designers they work with

Fashion editor : An editor curates certain fashion content and makes sure it is properly structured and written

Fashion stylist: the fashion stylist has the task of presenting his client's style in the best possible way

Content Curator: the job of a content curator is to analyze the data found online on fashion and fashion news, verify it and share it on the blog or other media

Fashion Photographer : a fashion photographer conceptualizes and takes photos that make the accessories, models and clothes of the brands he works with more beautiful

Author : An author has to write fashion-related stories in magazines, publishers and their books

Social media Influencer : a social media influencer creates content across the web between the various social platforms with the aim of entertaining, informing and influencing its readers
Difference between fashion blogger and influencer
the difference between a fashion blogger and an influencer is that fashion bloggers have a blog that they update regularly where they share fashion related facts with their readers while an influencer has a social profile where they also share facts related to fashion and their personal brand with the goal of influencing the purchasing decisions of their fans

the first thing that needs to be said is that a blogger can also be considered an influencer thanks to the following of readers he has

while an influencer in most cases cannot be considered a blogger 
so having an Instagram page doesn't make you a blogger

the main difference is the blog, a fashion blogger owns a fashion blog

while the influencer is the modern version of the image girl or the vip or people who have gained status thanks to their popularity gained through television programs, web or video platforms 

Influencers are the ones who are invited to parties with VIPs and have a large community of people following them

they usually do not have blogs and especially use social networks to communicate (for example Instagram) which they use to curate their personal brand

in other words, the big difference lies in the business model, while bloggers take care of the editorial and content part from their point of view, influencers promote their lifestyle and how the products are with them

Both jobs are well paid and both jobs if done well can lead to great popularity and followers

I would say that no one is better than the other it all depends on what you like

the only thing that needs to be underlined is that both are part of the new jobs that have been born thanks to the possibilities given by the web
The best courses for fashion bloggers
the best courses for fashion bloggers in Italian are: 
Fashion stylish courses
The Fashion Moodboard
Fashion Storytelling
the best courses for fashion bloggers in English are :
Fashion Blogs – How to Start a WordPress Fashion Blog
Fashion Blogging: Starting a Fashion Blog
Who are the most famous italian fashion bloggers
The most famous Italian fashion bloggers are:
Chiara Ferragni -Theblondesalad.com
Mariano di Vaio – marianodivaio.com
Maria Rosaria Rizzo – lacoquetteitalienne.com
Irene Colzi – ireneccloset.com
Elena Schiavon – Impulsemag.it
Carlotta Rubaltelli – Styleandtrouble.com
Alessandra Castagner – verdementablog.com