Hi you! 🙂
In this article I will tell you about one of the most interesting and fascinating types of bloggers out there at the moment: The Travel Blogger

what is a travel blogger?
T he travel blogger is a person who runs a blog where he writes articles about his travels, tells his experiences and creates original content that he will put on his blog in the form of articles, photographs and videos to share with his readers.

In simple terms, he is a person who writes on his blog and gives advice on his trips to do, his places to visit, on the logistics of preparing documents and on the necessary budget.

the travel blogger is a great travel enthusiast and travels the world collecting stories, adventures, material of his experiences and earning from a variety of online and offline sources.

What he usually does is give advice on any kind of travel: from luxury travel, to motorhome travel to the wildest travels of southern Africa.
Travel Blog History
travel blogs were born with the advent of the internet and the easy and accessible internet connection everywhere, 

Once upon a time bloggers had static web pages where they told their travels and shared their stories 

since what bloggers needed to lead this life was a computer and an internet connection so many people started doing both

travel and update their blog in parallel

after some time blogs started to be more and more popular and more and more quality blogs saw the light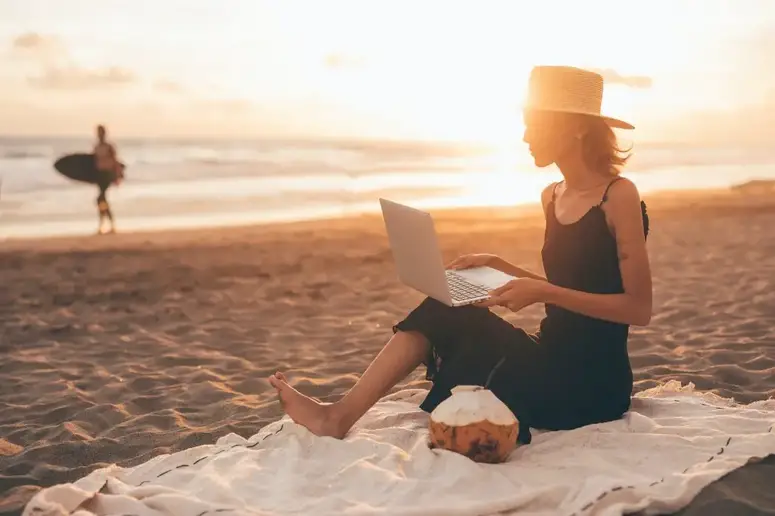 and if at the time blogging was considered as a hobby, many began to understand how to turn it into a real job

When people understood the polarity that travel brought and publishing travel stories, travel blogs started appearing all over the world.

Bloggers who combined their passion began to understand that it was possible to live and make money in this new way

and as travel bloggers started posting their travels and increasing visibility and notoriety on social media, hotels and restaurants began offering their services to these new promoters in exchange for blog posts, reviews and recommendations.

and that's how travel became a business
What A Travel Blogger Does
Here is the list of the 7 main activities that a travel blogger must carry out:
Organize the travel plan to get to the place where the intends to stay
Prepare travel documents and permits
Contact potential advertisers to talk about the trip and propose a collaboration
Contact sponsors to define the nature of the benefits
Take photos and videos of the trip
write articles on the blog
promote the blog and articles on social media and other platforms

what are the skills of a travel blogger:
obviously like all jobs on the web there are no academic skills required for travel blogging.

the experiences that can help in this job are: travel experiences, life experiences in other countries, the ability to speak multiple languages

But if you need to find common characteristics

Here is the list of 11 skills that a travel blogger must have:
Knowing how to create and write blog articles
Knowing how to manage the promotion of the blog
Knowing how to manage travel and the inconveniences that occur in travel
Knowing how to give useful and reliable travel tips
Knowing how to take photographs and videos that best describe the journeys
Knowing how to use photography and video equipment
Knowing how to use hosting and CMS services
Knowing how to integrate banner ads on the blog
Know the digital marketing and sales strategies
Know SEO
Knowing how to analyze the data of your blog
How travel bloggers earn
there are several ways a travel blogger can earn:
Banner ads : A popular blog with several hundred visitors is a valuable marketing channel for both placing your products to sell and hosting the products of other brands, selling these advertising spaces is a very simple way to earn money.

Product Affiliations : Certain companies offer free equipment to travel bloggers in exchange for promotion

Affiliations with hotels : Hotels often contact travel bloggers and offer them free stays in exchange for a review and recommendation on their blog

Affiliations with companies : some companies can offer the travel blogger free trips always in exchange for promotion

Ebooks, books : sale of Ebooks and travel guides

You must consider that the first year your blog will earn absolutely nothing, what you will have to do is to put together different strategies to earn something to support your blog

Your goal to start is to grow your blog , grow in notoriety and grow in authority

The value of your blog at the beginning will be very low but after you have started the first trips and you have accumulated the first experiences and you have published the first contents you can start receiving the first readers and the first followers and you will become more attractive to sponsors

Only after the traffic and notoriety will you have to focus on how to make money with a blog
How much do travel bloggers earn?
The salary of a travel blogger cannot be identified because it is an independent business and depends on many factors

It depends on how visible your blog is by Google (SEO), how many followers you have and the reputation you have.

There are so many factors to take into consideration that is why it is difficult to estimate how much you can earn if you open your travel blog today.

In addition, the income of a travel blogger depends on the place where he lives most of the year, living in New York is certainly more expensive than living in Bangkok, so you need a different salary based on your expenses.
How to become a travel blogger
Here are the steps to become a travel blogger:
Create a blog
Choose the name of your blog
Buy hosting and install WordPress
Choosing your niche in travel blogging
Create your About page
Define your goals
Create your editorial plan
Write your first article

After buying hosting and installing WordPress then after creating the blog

choose a travel blog name for your blog that translates your passion and your personality

it must be as short a name as possible, easy to remember and that catches the attention, 

when you have decided on what you want to write and you have a good idea of ​​how you imagine your travel blog make sure you have chosen a niche in the travel blog to represent
Luxury travel
Adventure travel
Festival trips
Travel and food
Yoga and travel
Slow journeys
Weekend getaways
Travel by camper 

surely you can also create your own niche, or combine multiple niches together as long as your content reflects the niches you want to best represent and your brand is easily recognizable

niches serve as a guide to help readers understand which area you cover 

after you are done with the creation of the site you have to create your reputation as a travel blogger this means introducing your person to the world,

create an about page where you tell who you are, what your mission is, what kind of person you are, what your blog is, what your values ​​are and what is the difference between you and other travel bloggers

later you will have to define your goals as a blogger, create an editorial plan that takes into account the places you want to visit and your travels 

and finally start writing your first blog
The Best Italian Travel Bloggers
Here is the list of the best Italian travel bloggers:
Marika and Diego – Gate309
Alessandro Marras
Manuela Vitulli – traveling thoughts
Anna Pernice – Travel fashion tips
Nunzia Cillo – Entrophia
Simon Falvo – Wild about Travel
Elisa Paterlini – Miprendoemiportovia
Valentina Carbone
Sara Izz and Tmur Tugalev – The Lost Avocado
Chiara Cecilia Santamaria – but what really?
Annalisa Arcando – Mustachic
Erica Firpo – Hello Bella
Ezion Totorizzo – Spezio
Cristina Buonerba – The lazy trotter