In this article, you will find out how to make money dropshipping

What is dropshipping?
Dropshipping is a business model in which a person who owns an online store sells products from a supplier 

while the supplier takes care of the packing and shipping of the orders

The online store owner does not need to invest in any products and can therefore focus on marketing and sales to increase online earnings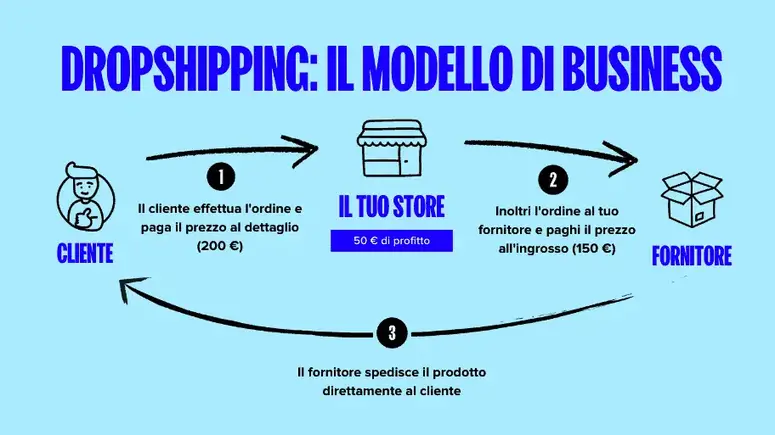 How dropshipping works
The easiest way to start a dropshipping business is to open an online store using an e-commerce platform that is found online.

the best platforms to open an online store are:
Shopify
Wix
Magento
Woocommerce
PrestaShop
Once your shop is up and running you have to choose one or several products to sell and where there is a market

in this initial phase a market analysis must be done to find the best products to sell

next you need to find dropshipping suppliers

There are several suppliers that allow you to do dropshipping, in general the dropshippinng is done with an Asian supplier this because labor in Asia has a lower price than European labor. 

the advantage of Asian suppliers allows for better margins

in general, the most used suppliers are those on the Aliexpress and Alibaba platforms

the choice of the good product is a very important phase, usually to validate a product the sellers use online software such as Google Trends to understand if there is a market demand for the product

once you have found the product and the supplier you will need to integrate the product images into your e-commerce and start your online marketing campaign

when customers place the order in your store you will have to forward the order to your supplier so that he sends the product directly to the end customer
What are the benefits of dropshipping?
Here is the list of the main advantages of dropshipping:
no investment in products
no storage problems
possibility to start immediately
no logistics problems
What are the disadvantages of dropshipping
Here is the list of the drawbacks of dropshipping:
Few suppliers in Italy
Management of customer complaints
Long delivery times
simple products
High competition
What are the risks of dropshipping?
Dropshipping has some risks, including:
Profit margins are low, so it is important to do a good research of suppliers and products and also to have good profits you need to focus on products that can be sold on a large scale.
The choice of the reliable supplier is important, otherwise you risk having problems with the delivery of orders and various delays
Have a good budget to use for marketing
What are the costs of dropshipping
Here is the list of dropshipping costs:
Website creation
Website application subscription
Payment fees
Shipment
Website creation:
Creating a website is the first expense you have to face if you want to dropshipping
the costs related to the creation of the online store are mainly the cost of the domain name and the subscription to the platform 
the costs for setting up an online store can vary between $20 and $30 per month


Website application subscription
the website alone can be enough, however, to increase the likelihood that customers will buy and better make it as professional as possible
adding applications that allow you to better manage customers, for example bots, allows you to increase the perceived value of your online store
the cost of subscriptions for the online store is $10 per month


Payment fees
payment fees are the charges you incur when processing online payments
these expenses are usually very small but are to be considered in the total budget of your online store
the cost of dropshipping payment commissions is approximately 3% cost of the product + $0.20 per transaction


Shipment
the shipping cost depends from country to country but is to be considered in the budget 
Because it can affect product margins