Hi you !! 🙂
In this article I will tell you about a type of blog used by companies in their digital marketing strategy: The Corporate Blog

the corporate blog is a digital marketing tool used by companies to increase the visibility of their site and to promote their products and services to their customers . It helps support the growth of a company and it does so by bringing traffic, traffic that can be converted into customers by the company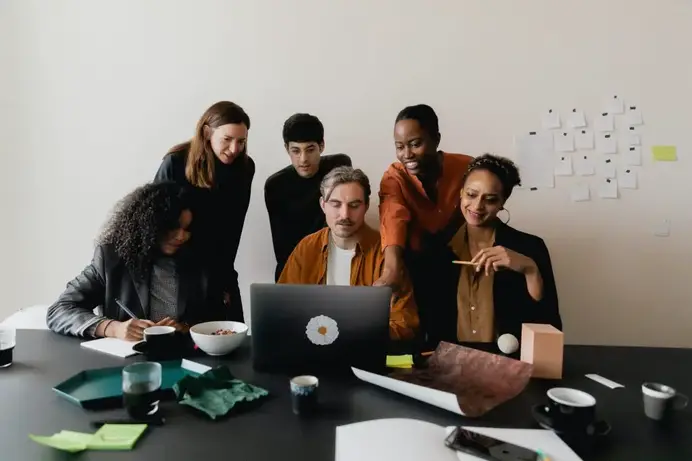 a corporate blog must be kept in excellent quality both in terms of content and in terms of attractiveness, readers must have the feeling of gaining value when they spend time in this blog

more and more companies are using the corporate blog to increase their visibility and be closer to their customers

but also small companies have started to use this strategy, in fact the cost of opening a blog and managing it is not very high

this allows small businesses to create an online space
Why create a Corporate Blog
your website is both a marketing tool and an asset for your business

the primary goal of a corporate blog is to increase the company's earnings, 


as I told you above the company blog is used to increase traffic but the goal behind it is to acquire customers, the process is simple, 

create content for your audience. Your audience finds them during web searches, with your content your audience also finds your products and services 

and if all goes well the customer concludes with the purchase of the product

statistics say that companies that use the blog receive 67% more customers every month and 53% of marketers say that creating content is their top priority

there are so many statistics that demonstrate the power of the blog

Unlike a website, a corporate blog is an informal communication space just like all other types of blogs

and composed of regular articles updated and dealing with the company's niche

the goal is to position the company high in Google searches and be perceived as the experts in the given niche
The benefits of a Corporate Blog
the benefits of a corporate blog are:
It allows you to show your competence and your level of expertise in your sector
It allows you to communicate your products and the values ​​of your company
Help build customer loyalty 
Improve your community management strategy
Improve your search engine rankings 

A company blog allows you to show your competence and your level of expertise, to put forward your experience and knowledge, to communicate the values ​​of your company and the current events of your sector

the blog allows you to position yourself as an expert in a particular niche and this has a huge impact on your brand image

on your blog you can talk about the improvements and developments of your company, the news of your sector and the answers to your customers' questions

providing free answers and advice to your readers will improve your online reputation

another point to consider is that blogging gives you a competitive edge, 
having a blog allows you to stand out from the competition in fact your online presence will be superior to that of your competitors who only have a website

a corporate blog is also much less formal than a website which helps make your company more human

the tone of voice is freer than on a website and allows you to more simply convey the essence of your company 



even if you talk about your products on your blog you will have a less formal and friendly tone for your readers and this will help improve your brand image

the company blog allows you to communicate about your products and company news

to make sure that your customers are aware of the current relevance of your company, your products and your services 

nothing better than spreading information on your blog

if the content you publish on your blog is interesting it will surely be shared by your readers on the web and its social networks, unusual content, product secrets or the background of industrial processes are content much loved by readers

during your promotional campaigns you can use the blog to boost and help the promotion by sharing the different promotions
Having a blog also allows your company to tell the story of the brand as the big brands do
and by starting to produce branded content, your company will begin to no longer be considered as a purely commercial company but will begin to appear as a real brand with precise characteristics and a character

a blog allows you to not only write articles about your products and services, it is known that the publication of only articles intended for commercial purposes can bore readers, but alternating these with more informative and useful articles or inspirational articles is a very more effective that will allow you to attract more and more readers and customers


the company blog also allows you to better manage the relationship with your customers and consumers, 

this has a big impact on a brand's business and therefore having a place where customers can communicate with the company is absolutely vital

 The blog opens the door to two-way communication between your organization and customers through chat, comments, email etc. 

In this way, customers can also give a contribution and their point of view on company issues

retain customers
The blog is a loyalty tool, since it allows you to open a relationship with customers. 
a more direct and personalized relationship and in a less institutional tone than on a website
this results in a brand image that is closer to your customers who will be more likely to buy your products or services

on a website a customer after buying your product has no interest in returning
instead thanks to a blog he will be tempted and encouraged to come back 
even more if they like the editorial line and the news announced on your blog 
this as you can guess leads to a huge increase in traffic to your blog


improve your community management strategy
it is not enough to write articles to see the traffic of your corporate blog increase, even social networks must be used to make your blog known
promoting his social networks is a step that you must not miss
the advantage of the blog is that it allows you to make the most of your presence on social networks, 
in fact, content marketing and community management are two terms that go together, 
publishing content on your company blog allows you to increase your publishing agenda on social networks and thus to increase the engagement of your community around your brand at the expense of your competitors
in this way you can integrate your blog with a more global digital marketing strategy that groups social networks and its social communities (Facebook, Twitter, LinkedIn, etc)


a corporate blog improves the positioning of your site on search engines and therefore your notoriety
the number one reason why a company is blogging is undoubtedly to improve visibility on search engines thanks to positioning
In fact, there is a lot of rich and updated content on Google every day. 

And that's what a blog can bring new and frequently updated content to your business.
these new contents allow to increase the presence on the web and its authority regarding certain issues in the eyes of Google
that's why with a corporate blog it is much easier and more likely for a customer to find you and with an optimized SEO strategy you can increase your positioning in search engines
The best Corporate Blogs
Here is the list of the best business blogs:
Runstatic – ADIDAS
News / nike – NIKE
Patagonia-stories – PATAGONIA
Apple / Newsroom – APPLE
Vans / Blog – VANS
Ideas / Lego – LEGO