what is telegram?
Telegram is an instant messaging service belonging to the Telegram LLC company founded by the Russian entrepreneur Pavel Durov based in Dubai. The application is free for Android , iOS, Windows Phone, macOS, Linux and Windows and allows you to send texts, photos, videos and files of any type

the application was founded by brothers Nikolaj Durov and Pavel Durov in 2013, the brothers are also the founders of the Russian social network VK

Telegram can be downloaded from the official website or from the store of your device and is totally free to download and use.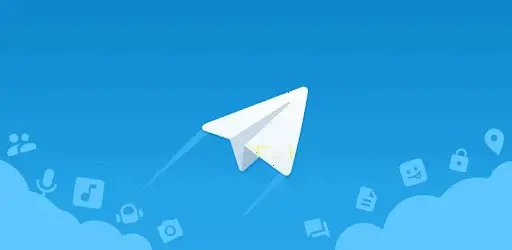 the Telegram application unlike other instant messaging applications has no limits on sending and receiving messages as well as having no limitations in the size of the files that can be sent to other users

in fact it uses a cloud system that is based on encrypted chats which allows your messages to be private and secret

Telegram's interface is very similar to other instant messaging interfaces

in the dashboard you can find buttons common to any other chat: 

the dashboard is divided into two parts on the left side you will find a list of contacts while on the right you will find the chat for conversations and for the desktop version

 by clicking on a conversation you have access to the screen where you can find all the messages of the conversation as well as the section where you can write and insert the various attachments 
How Telegram Works  
Telegram is an instant messaging service similar to WhatsApp, but with some additional features.


It is based on a security plan based on end-to-end encryption, which means that messages are encrypted when they are transmitted and cannot be decrypted by anyone but the sender and the recipient.

Telegram also has a self-destruct message feature , which allows users to set a timer for automatically deleting messages after a specified amount of time.

The cloud storage feature allows you not to miss any conversations and to find everyone again through any device
The Features Of Telegram?
The main feature of Telegram is to be able to contact friends and exchange messages for free and in complete safety as well as the possibility of a bot program to help the user in the management of his communities

to this are added other features

here is the list of the main features of telegram
Free
Safety
privacy
unlimited attachment sizes
stickers and GiF
Synchronization with the cloud
Telegram channels
Telegram groups
Telegram Bot


What is the difference between WhatsApp and Telegram?
Telegram and WhatsApp differ in the ability to create Telegram channels for publishing content and the ability to create third-party software such as Telegram bots that can help manage customers or a community.

another difference is that on Telegram there are no size limits when sending files to other users while on WhatsApp you cannot send files that are too large 
Telegram channels
Telegram channels are a way to share content with a group of people. Channels can be public or private.


Public channels can be found by anyone, while private channels can only be found by users who know the channel address.

The channels on Telegram are often vertical on a niche and gather enthusiasts and experts and allow you to be informed on a certain topic
Telegram groups 
Telegram groups are a way to communicate with several people at the same time the maximum number of a group is 5000 members.


Groups can be public or private. Public groups can be found by anyone, while private groups can only be found by users who know the group address.
Telegram Bot 
Telegram bots are accounts controlled by a program, rather than a person. Bots can send and receive messages , like other users. Bots can be used to make money with Telegram and for various functions, such as searching for information, creating surveys or managing a to-do list.

bots are the feature that differentiates Telegram from other instant messaging services

third- party applications that appear as automatic chats, are able to interact with users, answer questions and give information

for example there is a bot where after entering information such as your location and the type of fuel of your vehicle it gives you all the information: price, distance, the name of nearby distributors and a link with the location for Google Maps