Hi you! 🙂
A couple of months ago I came across an article that talked about Jasper AI review (formerly Jarvis AI), an artificial intelligence that can replace the work of copywriters and more generally of web writers in the near future.

Contrary to this article and extremely skeptical, I armed myself with my MacBook and Google and went to inquire about this elusive Jasper AI

Here's what I found …

Jasper is an artificial intelligence capable of creating high quality original content extremely fast . Jasper helps you write SEO optimized content that performs well in search engines, helps you write persuasive copy for your Google or Facebook advertising campaigns and allows you to overcome the language barrier thanks to its ability to write creatively and clearly in more than 25 languages

In simple terms, what Jasper does is write for you!

Jasper uses an advanced artificial intelligence system (GPT-3) to write content and has been trained by reading millions of books, ebooks and posts on the web

Jasper AI's goal is to remove the effort needed to create written content to allow you to increase the number of publishable content and therefore your productivity 

Allowing you to spend more time on the things that matter most to your business

For you who write and have a blog, Jasper can definitely help you write faster

Or if you're paying for part-time writers, Jasper can completely afford to replace them and save money

Copywriting is an art not easily accessible to everyone, it takes time, creativity and experience to become a good copywriter

And it usually takes several years to develop this skill, which is much sought after in the market and paid very well, to the maximum

Jasper Ai eliminates this problem by offering an alternative to paying for the expensive services of a copywriter


Perfect for small businesses, for bloggers and for all those people who want to improve their text content and diversify their strategy 
How does Jasper AI work?
Jasper uses a complex machine learning algorithm to understand content structure and generate high quality content that can be mistaken for that written by a professional copywriter

Jasper works thanks to the inputs that we are going to give him during the writing of the text

If you own a service or a product, just write a description of your product in a few lines and then Jasper will take care of completing your persuasive content by adding details and emphasizing on different aspects of the product just like a real copywriter

Of course you will always have to check that the paragraphs created by Jasper are consistent with your article and with the goal of your post
But as you will have understood, the work with Jasper is reduced by a lot
Jasper Boss mode
In case you are a blogger and you need a hand to write longer articles you will need Jasper's Boss mode

This mode will allow you to define the keyword of your article and give other indications that will allow Jasper to understand the intent of the article and write the best possible content.
I strongly advise you not to let Jasper write on his own but instead follow him by giving him a list of questions (which can be the various paragraphs) to answer for your article.

There are two ways to write an article with Jasper:
Start From Scratch
Blog post workflow

Start From Scratch allows you to write an article starting from a blank page

While Blog post workflow is based a little on the structure of creating a post by a blog (Keyword, introduction, paragraphs etc …)

The better way between the two is undoubtedly the blog post workflow mode

The workflow mode helps you to generate a good blog post in fact you will have to give Jasper all the information such as:
The title of the article
the keyword
number of paragraphs
Description

Once you give Jasper the title and keyword he will generate three introductory phrases relevant to your article with different styles for you to choose the one you prefer the most
Jasper AI pros and cons 
| | |
| --- | --- |
| Pro  | Versus |
| easy to use software | expensive but worth all your money |
| quality content | human corrections needed to make the article perfect |
| Great customer support | |
| software that works perfectly with all niches | |
| SEO optimized content thanks to Sufer SEO | |
| Automatic grammar correction | |
Jasper Pro
Easy to use and extremely intuitive
the contents produced by Jasper are of excellent quality
Frequent updates
SEO content optimization
Excellent customer support

Jasper Cons
Expensive but worth all the money
Corrections needed to make the text perfect
What can be done with Jasper AI
Jasper is not only an artificial intelligence for the creation of textual content (blog articles) but indeed it can do much more

Here is the list of things Jasper can do:
Writing using the AIDA structure : creates attention, interest, desire and action, a lineup well known by copywriters that allows you to lead your users to take an action

Improve dated content : this mode allows you to take existing content and alter it to create something much more engaging, innovative and creative

Write the product description : create product descriptions for your newsletter, for your social networks or for your e-commerce

Give you ideas for blog topics : very useful for bloggers in this mode Jasper gives you a list of ideas for your next articles

Create the structure of your article : in this mode Jasper creates the structure of your article for you

Writing the introduction to your article : Jasper creates the captivating introduction of your blog

Writing Your Article Conclusion : Jasper is also capable of concluding your article

Writing Stories : Jasper can write you stories using the storytelling framework

Explain to a child : Jasper can change the words in each paragraph to make them easier to understand

Writing a Facebook Ads Headline : Jasper helps you turn an ordinary phrase into a catchy headline

Writing the copy of a Facebook Ads : Jasper allows you to write the copy of the ads in order to increase the conversion rate of these same ads

Write the title of a Google Ads : Jasper allows you to write the title of an ads on Google in order to make it more clickable by users

Writing a copy of a Google ads : Just like Facebook ads Jasper allows you to write excellent copy for Google ads

Write a Unique Value Proposition (UVP) : Jasper can write a short and simple sentence for you that describes the benefits of your product

Write your company bio : Jasper can create a great description of your company thanks to the information you give him. The company bio is very important to tell people who you are and what you do
How much does Jasper AI cost
Unfortunately Jasper is not free and actually has two prices at the moment.

The first price is for the basic "basic plan" version while the second is the advanced "boss plan"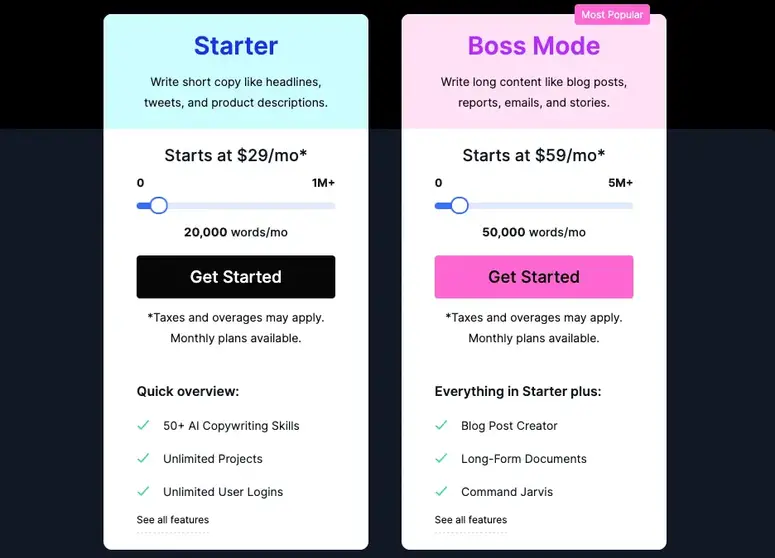 Basic Plan
The basic plan costs from $29 / month (€25,64) and allows you to generate 20,000 words per month

This plan is perfect if you are a beginner trying to figure out how to create a blog , how to produce content, or if you want to test the product before switching to Boss mode.

Bloggers who want to generate short copy such as ad titles, product descriptions can buy this plan

Boss mode plan
It is the most advanced and therefore the most expensive plan. It costs from $59 / month (€52,18) and has no monthly word generation limit

The boss mode plan also has all the advantages of the basic plan plus a few more things such as: Jasper commands , the ability to write longer articles, SEO optimization for your articles and much more.

In addition, it gives access to the document creation part: which allows you to create longer documents such as articles for blogs, books, theses, etc.

Jasper boss mode is the best choice for professionals who want to use Jasper to increase their profit, produce more content and make money with a blog
My take on Jasper AI
Jasper is a crazy instrument I was really shocked by the quality of the lyrics that you can produce with Jasper

Of course I can't define him as one of the copywriters replaced because you have to keep up with him, correct him using repeats or give him back the right direction when he gets lost.

But they can say that it is an excellent writing assistant that will definitely cut down on content production times when used well