In this article you will find out how much money can you make blogging

if you are an aspiring blogger and you have decided to make blogging your job, the first question you will have asked yourself is surely: how much do you earn with a blog ?

in this article we will try to answer this question

on average with a blog in Italy you earn from $500 to $2,000 / month for an entry level, while an average blogger can earn up to $3,785 / month  which is equivalent to $45,427 / year gross according to Glassdoor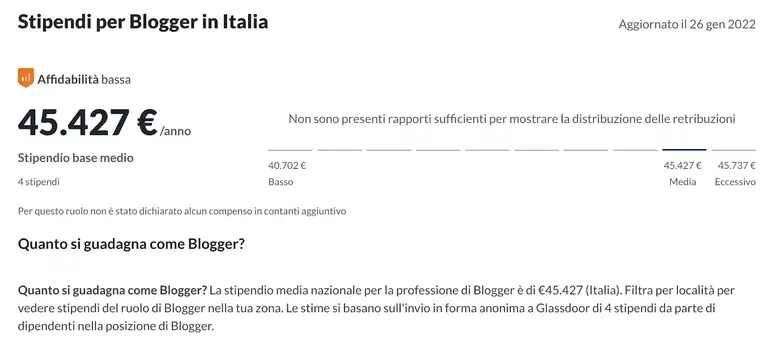 the problem with regards to the salaries of bloggers is that there are so many variables to take into consideration so to have a more precise vision it is interesting to look at other sources

for example, problogger did a study on how much you earn with a blog and the results are really interesting and useful

if you don't know Problogger I'll give you some information

Problogger is the blog of Darren Rowse , an Australian blogger who lives on his blog 's earnings

here are the results of the study he conducted 

Here are the data of how much you earn with a blog :
9% earn between $1000 and $10,000 / month
4% earn more than $10,000 / month
25% earn from $100 to $1,000 / month
60% earn from 0 to $99 / month
the income with a blog depends on several factors, the main factors that influence the income of a blog are:
The market niche
the skills of the blogger
resources
blog traffic
the monetization method
certain sectors are much more profitable than other sectors, it is therefore important to make these considerations before starting a blog 

for example, starting a blog on the technology sector is much more profitable than a political blog

Here's how much you earn with a blog in the most popular niches:
Travel blog : $63,000 / year
Lifestyle blog : $52,000 / year
Beauty blog : $44,000 / year
Food blog : $41,000 / year
Fashion blog : $37,000 / year
in Italy there are blogs that earn a lot,
here is the list of Italian bloggers who earn the most:
Cliomakeup: $ 5 million / year
Salvatore Aranzulla: $ 3 million / year
Andrea Giuliodori: $ 2 million / year
Benedetta Rossi: $ 200,000 / year
How many visits must a blog have to earn?
There is no minimum number of visits per month that guarantees you to earn with a blog ,

the more traffic you can bring to your blog , the greater the chance of earning through this traffic

moreover, the amount of money that you can generate from a blog also depends on the monetization method you use

if you use advertising as a monetization method then you will need a lot of traffic to earn a good salary

while if you have created an online course the traffic you will need will be much more 

because the rpm of online courses is higher than the rpm of advertisements

rpm is the revenue per thousand, a value that allows you to estimate the earnings per thousand visitors

on average, a general and indicative value of traffic for the blog is 10,000 monthly visits,

if you want to earn with the blog the 10,000 monthly visits must be your first goal 

professional bloggers get between 50,000 visits per month
Methods of monetizing a blog
the income you can get from a blog depends on the monetization method

There are several methods of monetization and each has its advantages and disadvantages

Blog monetization methods include selling ad space, joining marketing programs , selling products and services, and creating paid content.

here is the list of the main methods of monetizing a blog
sell online courses 
affiliate marketing
advertising banners
sell physical products
sell services
advice
sell books or Ebooks
Ask for donations
do guest posting
Conduct Webinar
form partnerships
make podcasts
for more information I recommend reading this article :
How long does it take to make money with a blog?
in general it takes from 3 to 8 months to receive the first earnings from the blog

this time period is highly variable and there are several factors that need to be taken into consideration

there are two main factors that determine how long it will take you to make money blogging
Work time
monetization method
work time is the time you will devote to your blog 

this time depends on your initial situation, 

for example, a student has much more time to blog than a worker

the more time you spend on your blog , the less time it will take you to earn

the second factor is the monetization method

there are monetization methods that allow you to earn money very quickly, such as advertisements and affiliations

while other more profitable earning methods allow you to earn much longer after such as online courses